You can find Pearland TX metal roofing contractors near me at All-Star Roof Systems. We have served the Greater Houston area for over five decades, providing both commercial and residential roofing. Our contractors install everything from aluminum to steel, standing seam, and asphalt composition shingles.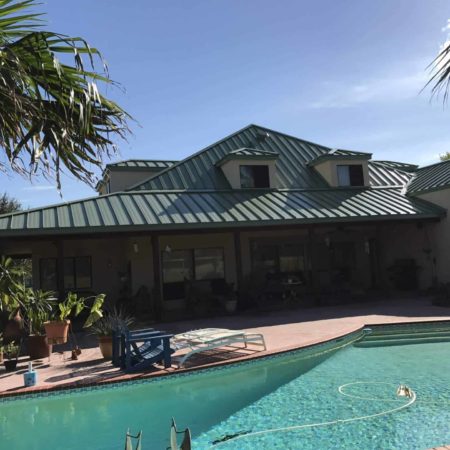 A Little About All-Star
We are so confident in the quality roofing of our contractors' work that we encourage you to contact Classic Metal Roofing Systems. Ask them who they recommend installing their products.
For our excellent customer service in 2016, Isaiah Industries brought us national recognition when they gave us a distinction award. Before that, they had already made us the exclusive certified installer and dealer of their Country Manor product.
All-Star Roof Systems' contractors are all certified through CertainTeed ShingleMaster. After taking an SM credentials course, they can call themselves Master Shingle Applicators. With this, they can offer you the SureStart PLUS warranty for your Integrity Roof. As your Pearland TX metal roofing contractors near me, we put in the work to have the knowledge and expertise to work on your home.
We value the integrity we put into our labor. All-Star assures you that our roofing business is made up of the best contractors that Houston has to offer.
Why Metal Roofing?
There are numerous benefits that metal roofing has over its counterparts and why it's considered a premier material. More and more people are discovering its advantages. So much, so that standing seam roofs are currently one of the fastest-growing home improvement trends.
Beauty
Asphalt and composition roofs only leave you with one look for your home while installing a metal roof gives you a variety of options. All-Star Roofing has an extensive color chart and selection of styles for you to pick from. You can have a ranch or colonial-style roof or go for an industrial, utilitarian one. It is entirely up to you.
Durability
Probably the biggest reason people gravitate towards metal roofs is their long lifespans. You will find roofs installed by our contractors in Pearland TX and Houston that are over 40 years old. Such durability is virtually unheard of in the industry. But on top of this, metal roofs' lightweight puts less stress on your home, extending its life as well.
Metal roofs are also weather and hazard resistant. Aluminum and steel are wind, hail, and fire-resistant. And the wind resistance is vital for avoiding storm damage during Houston's hurricane season. Ours have a PVDF powder coating that protects it from chalk and fading. But we offer a 30 years warranty for chalk and fade for extra protection.
We want to dispel several misconceptions surrounding metal roofs. First of all, they do not attract lightning. Studies show they are no more likely to get struck than your traditional roof. Secondly, they will not be noisier in hail and rain. They come with insulation and noise reduction between the roof and your home. Our roofs have finishes that prevent them from rusting or corroding. Lastly, their blocking cell coverage is negligible. We have never received a complaint pertaining to any of these.
Green
Composition asphalt tiles are petroleum oil-based. They deteriorate at a rapid pace and emit hydrocarbons as they do. On the other hand, metal has practically no outgassing or decomposition.
Our metal roofs consist of 95% recycled materials, and themselves are 100% recyclable. Their long lifespans too mean the elimination of disposal and landfill costs. Metal materials have very low embodied energies and carbon footprints. Aluminum actually has one of the lowest in material sciences.
Economical
Just as metal roofs' energy efficiencies help the environment, they will also benefit your wallet. Metal's durability means that you do not have to worry about expenses spent on roof repair, maintenance, or a roof replacement. While traditional roofs are cheaper in the short term, you end up replacing them two to four times more often. But in addition to this, 60% of up-front costs of your metal roof tacks on to the value of your home, contributing an investment.
Estimates hold that you can reduce your energy bills by up to 20%. The materials Kynar or Hylar coating reflects the sun's heat. You keep your attic 34% cooler and save on your AC. This kind of saving can take you a long way in the middle of a Houston summer.
While standard roofing overlaps with short-lived sealants, aluminum uses dense, interlocking seams for optimal weather coverage. Resistance to any condition is necessary and our aluminum makes this simple.
Our aluminum roofing comes in three different products. We have our Country Manor shake aluminum that looks like real wood, but it does not have to be treated with expensive chemicals. Rustic Aluminum Shingles can give your home that vintage, retro look to it with the longevity of metal. Our Oxford Shingles are our most reliable and optimized product, coming in various colors and styles with plenty of protection.
Do not forget to check out our other roofing materials. For extra durability, you should turn to steel roofing. Standing seam roof's design is perfect for withstanding extreme weather conditions like hurricanes. If you want to stick with your traditional roof, we also install asphalt composition roofs.
Pearland TX Metal Roofing Contractors Near Me
We have a Better Business Bureau A+ rating, and our largest provider, Classic Metal Roofing Systems, named us their Preferred Contractor. Both are guaranteeing you that coming to us will get you the highest quality customer and roofing service out of the roofing companies. Our founder, Ron Chappelow, began All-Star Roof Systems in 1965, and since we have served Pearland TX as Houston's leading and premier roofer.
From then on, we have specialized in installing metal roofs. However, we remain flexible for our clients. Not only do we provide aluminum, steel, and standing seam roofs but also have r-panel, thermoplastic olefin, asphalt shingle, and composition roofs. And in our 50 years of business, we have done roofing projects on family homes, apartment complexes, churches, restaurants, retail stores, and more. We also have 40-year warranties and give you a free estimate or free quotes to compare prices.
Our office and operations are on Kuykendahl in Tomball. However, we serve the entire Houston area: Spring, Cypress, Katy, The Woodlands, Sugar Land, and Pearland. For Pearland TX metal roofing contractors near me, you can contact us and call us at (281) 987-9000 or email us at info@allstarroofsystems.com.
Pearland Fun Facts
Pearland expands into three different counties: Brazoria, Fort Bend, and Harris.
Our city's original name was "Mark Belt."
But Pearland is known as the "agricultural Eden."
For more about Pearland, visit https://www.pearlandtx.gov/