//////////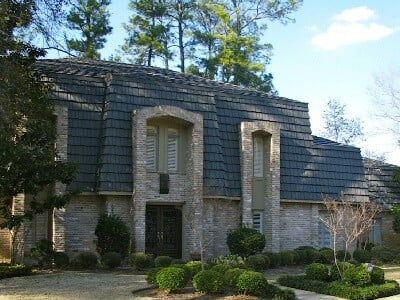 In the Houston area, lifetime metal roof cost will be 2-3 times that of a composition shingle roof. Whether you decide on an aluminum shake or a steel standing seam roof, All-Star Roof Systems will be able to provide you metal roofing prices. Texas is home to the largest population of metal roofs in the world! Our metal roof systems are considered investment grade and will last throughout the years to save you money on replacement and energy costs.
If you are interested in a new metal roof, you should contact All-Star Roof Systems for a free estimate. They will measure your home and give you real numbers for the different types and styles there are to choose from. There is no obligation, and that way, you don't have to worry that the metal roof cost might be more than you plan to spend.
Metal Roofing Cost Less Than Composite Roofing
Life Cycle Costs
With metal roofing, your roof's life expectancy is essential. One of the highest reasons for metal roofing is for a longer life cycle. Metal roofs last as long as 50 years and beyond with little to no maintenance.
Since composite roofing needs to be replaced every 20 to 30 years, you need to consider the long-term investment. For instance, you need to consider the initial cost of composite roofs and future repairs and replacement. With metal roofs, you gain a product that lasts longer, offers more benefits, and needs no replacement.
Energy Savings with Energy Efficient Cool Metal Roofing

Your home should be built on energy-efficient materials, regardless of what they are. Your roof should provide savings along with protection. Luckily, metal roofing does just that. Our metal roofs save you as much as 40% on your yearly energy costs. Also, highly discharged metal roofs lower temperatures as much as 12°F.
Surprisingly enough, energy efficiency comes from the finish on the roof. Standard, unpainted metal roofs will merely reflect solar energy. However, they do not re-emit the heat, which leaves some of it absorbed into the metal. With the right coating, your metal roof will reflective and re-emit the heat outwards. This maximizes your home's protection from temperature changes.
A highly-reflective and emissive painted or granular-coated metal roof is the best choice for reducing energy consumption. It can re-emit up as much as 90% of solar energy.
We install our metal roofs directly on the existing asphalt roofing already present. This lowers the waste that are filling landfills across the country. It also allows us to install the metal roofing quickly.
Lower Your Insurance with Weather-Resistant Metal Roofing
If you live in an area with extreme weather from time to time, you should be aware of your options. From hail to heavy winds, fires, and storms, you need to ensure that you have the right protection from nature. We offer impact-resistant UL Standard 2218 tested metal roofing (classes 1 through 4) and fire-resistant Class A, B, and C metal roofing. Not only do these provide maximum security, but they can also help you earn discounts on your insurance.
UL 2218 Discounts Available:
When you replace your roof, make sure to find out what you can about the available discounts. Depending on where you live, you can get discounts as high as 30% on your insurance. The UL 2218 discount was a discount that began in Oakland, CA, back in 1991. A wildfire destroyed thousands of homes except for a single building that had a steel roof.
Effects on Home Resale Value
One final thing to take into account is how metal roofing bumps up the resale value of your home. Any alterations you make to your home after purchase affect its resale value. Any upgrades you make will significantly up the recuperation of the investment. Homeowners with metal roofing have been able to regain 95% of the cost at resale. On the other hand, asphalt roofs require repairs and replacement regularly.
Metal Roofing Prices Summary
Life Cycle Cost – Cost of 1 Metal Roof vs. 2-4 Composite Roofs

Energy Savings – Save up to 20% on Energy Costs

Insurance Savings – Save Up To 15% on Homeowners Insurance

Better Resale Value – Recoup Up To 60% of Metal Roof Costs at Resale