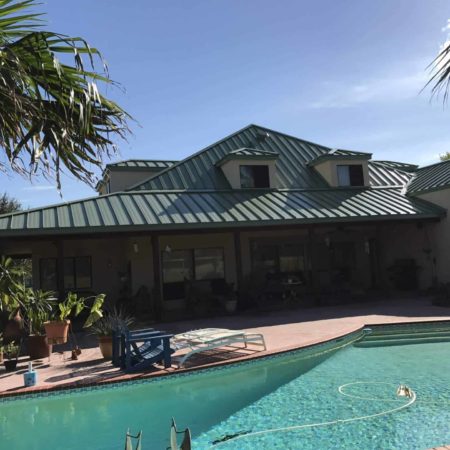 All-Star Roof Systems made our The Woodlands TX metal roofing contractors near me available for the Houston area. If you need a new roof, roof repairs, a replacement, or just want to make the switch over to a premier material, we can ensure that our contractors are the best in the industry. From aluminum, steel, standing seam, and composite asphalt tiles, we have expertise and knowledge with all commercial and residential roofing.
A Little About All-Star
We urge you to contact CLASSIC Metal Roofing Systems, our leading roofing material provider. Ask them who they recommend installing their products.
CLASSIC's parent company, Isaiah Industries, brought us national recognition and gave us a distinction award for our excellent customer service in 2016. Before that, in 2014, they made us the exclusive installer of their Country Manor aluminum shake product.
Our The Woodlands TX metal contractors near me are certified through the CertainTeed ShingleMaster program. After completing their credential course, they can call themselves Master Shingle Applicators. They have gone through the effort to reassure you that they have the knowledge and expertise to handle any project you have. With this credential, our Master contractors can get you a SureStart PLUS warranty for your Integrity Roof.
Why Metal Roofs?
More home and business owners are discovering the numerous benefits and advantages metal roofing has over its counterparts. It is a premier metal roofing material. In fact, standing seam metal roofs have made their way as one of the fastest-growing trends in home improvement.
Beauty
Many are worried about how metal roofs look. But they offer so much more variety than composition roofs you have on most apartments and suburban homes. You can give your home anything from a ranch or colonial-style look or an industrial, utilitarian option. The majority of homeowners' associations accept metal roofs in their neighborhoods. So, you have the opportunity to add some personalization to the exterior of your home.
Durability
Perhaps the biggest reason people are flocking to metal roofing is its extreme durability. All over Houston, you can find roofs installed by our metal roofing contractors that have stood there for over 40 years. Such long lifespans are practically unheard of in the roofing industry.
Additionally, steel and aluminum's lightweight, by comparison to asphalt shingles, put far less stress on your house. This means the lifetime of your home is extended as well.
Metal roofs' wind, hail, and fire-resistance also makes them prime candidates for your choice. Especially for Houston's hurricane season, their wind-resistance and protection against storm surges are crucial. Ours also has a PVDF powder coating that keeps them from suffering chalk and fading. But we offer a 30-year warranty specific to chalk and fade just in case.
Several mistaken misconceptions float around metal roofing. Before deciding on one, they should be cleared up. Firstly, studies show metal roofing does not attract lightning and are no more likely to get struck. Second, you do not need to concern yourself about rain becoming loud. Our roofs have insulation and noise reduction in between it and your home.
They also have coatings that keep your roof from rusting or corroding, so they should last the 40 years we promise. Cell coverage blockage is also not an issue and negligible. Unless you currently have trouble, a metal roof should not present this problem. Our customers have never given us these complaints.
Green
Aluminum and steel are much better for the planet than normal composition roofs. Asphalt rapidly deteriorates and emits hydrocarbons as it does. Plus, it is made from petroleum oil. Metal, on the other hand, has virtually no outgassing or decomposition.
All-Star's roofs come from 95% recycled material, and they are 100% recyclable themselves. Metal's durability means that you and the planet save on waste, disposal, and landfill costs too. They have very low embodied energies and carbon footprints to the point that steel has one of the lowest in material science.
Economical
While the energy efficiency behind metal roofing helps the environment, you also receive benefits through your bank account. Even though traditional roofing is cheaper in the short term, the later expenses quickly catch up and surpass. The long lifespan of a steel or aluminum roof means that you save on the repairs, maintenance, and roof replacements. Actually, asphalt roofs require full replacements two to four times more often than metal ones.
On the energy efficiency behind a metal roof, estimates claim that they reduce your bills by 20%. The Kynar 500 and Hylar 500 hi-R coating reflects the sun's radiation and keeps your house cooler. Your attic stays 34% cooler during the summers, giving your AC unit less work on its shoulders. With Houston's summers in mind, savings like that becomes vital.
Metal Roofing Contractors
Check out all our options for metal and traditional roofing. Each type of roofing has its benefits, and we can help to find the right one for you. For example, we offer Country Manor shake aluminum tiles, Rustic Aluminum Shingles, and Oxford Aluminum Shingles for our aluminum roofs.
The Woodlands TX Metal Roofing Contractors Near Me
Better Business Bureau gave All-Star an A+ rating. Plus, CLASSIC Roofing made us their Preferred Contractor for all their products. We can guarantee you that our roofing company will treat you with the utmost integrity and the highest quality roofing and customer satisfaction. Ron Chappelow founded the company in 1965, and from then on, we provided the leading and premier metal roofing for Houston.
Throughout our 50 years, our contractors have specialized in installing metal: aluminum, steel, and standing seam roofs. However, we remain flexible for our customers. We also install composition asphalt shingles. Our contractors have experience fitting residential and commercial roofs for family homes, businesses, churches, restaurants, retail stores, apartment complexes, and more. We also offer our 40-year warranties and give free quotes and free estimates before we begin your project.
Our office and operations are on Kuykendahl in Tomball of Northwest Houston. But we provide our metal roofing services to the entire Greater Houston area, servicing The Woodlands Texas, Spring, Katy, Cypress, and Sugar Land. To contact us you can call (281) 987-9000 or email us at info@allstarroofsystems.com. All-Star Roof Systems looks forward to working with you as your The Woodlands TX metal roofing contractors near me.
The Woodlands Fun Facts
Woodlands High School is the largest high school in the state and the top in the country.
There are almost 150 parks in the Woodlands area.
We are home to Cynthia Woods Mitchell Pavilion.
Our nickname is "The Invisible City."
For more info on The Woodlands, check out https://www.thewoodlandstownship-tx.gov/