All-Star Roof Systems has Sugar Land TX metal roofing contractors near me. If you are in need of a new roof, roof repairs, a replacement roof, or want to make the switch to a premier material, then we have you covered. Our contractors have the credentials behind them so that we can call them the best in the industry. Aluminum to steel, standing seam, and even composite roofing, they have the knowledge and expertise for installation.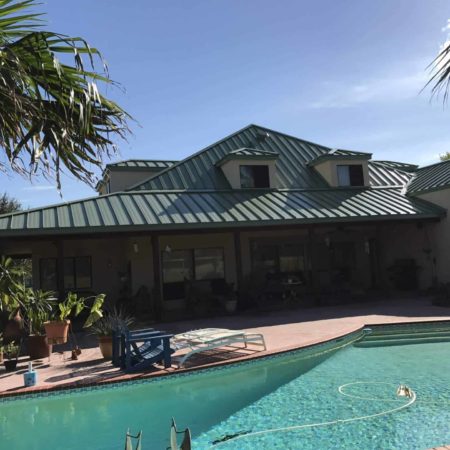 A Little About All-Star
We feel your largest draw to our company should be the credentials behind us that show the confidence the roofing community has in our contractors. For example, we want you to go ahead and contact our leading provider, CLASSIC Metal Roofing Systems. Ask them who they recommend installing their shake and shingles.
Their parent company, Isaiah Industries, gave us a distinction award and brought us national recognition for the excellent customer service we provided in 2016. And in 2014, they named us their sole provider of their Country Manor Shake.
Our contractors have also been CertainTeed ShingleMaster certified. Through their SM credential course, they became Master Shingle Applicators and can now provide you the SureStart PLUS warranty on your Integrity Roof.
All All-Star's Sugar Land TX metal roofing contractors near me put integrity into their work. Because of this, your local roofing company can stand proud and boast.
Why Metal Roofs?
More people are recognizing the many advantages metal roofing has over conventional roofs. Standing-seam metal roofs are among the fastest-growing home improvement trends.
Beauty
Many might become concerned about how a metal roof may look. However, the majority of homeowners' associations approve of metal roofing. And while there is really only one look for an asphalt shingle roof, metal roofing can come in a variety of styles. You get to add a personal touch to the exterior of your roof, choosing anywhere form a ranch or colonial style to an industrial, utilitarian one.
Durability
The greatest pull to metal roofing right now is their long lifespans. You can find roofs that we installed over 40 years ago still standing in Houston. Such durability is virtually unheard of in the roofing industry. But additionally, metal roofing's lightweight puts less stress on your home then an asphalt roof would, extending the lifetime of your house as well.
Metal roofs avoid storm damage, are fire, hail, and wind-resistant. This protection can be essential for Houston's hurricane season. Our roofs' PVDF powder coatings also protect them from fade and chalk, but for your added security, we provide a 30-year warranty specific to these.
Green
Metal roofing is far more environmentally friendly. Asphalt roofs deteriorate fast and emit hydrocarbons as they do, metal roofs have practically no decomposition or outgassing.
Our roofs are made from 95% recycled material and are 100% recyclable. Their lifespans mean less disposal, waste, and landfill costs or carbon footprints. The metal materials also have low embodied energies. Steel has one of the lowest embodied energies in material science.
Economical
Even though asphalt composition tiles will be cheaper in the short term, the economic efficiency of metal roofs quickly makes up for it. Their durability means none of the expenses on roof repairs, roof replacements, or maintenance. On top of everything, 60% of that initial price will get tacked on to the value of your home, becoming part of an investment.
The energy efficiencies that benefit the environment also work for your wallet. Estimates say that you save 20% on your energy bills. The hi-R coatings reflect the sun's rays, keeping your attic 34% cooler, and saving you on AC. This can be crucial during Sugar Land TX and Houston Texas' summers.
Our aluminium eliminates weather and environmental resistance. They use solid, interlocking bands, in contrast to the conventional roofing short-lived sealants.
We highly recommend three of our aluminum roofing shake products. Our CLASSIC COunty Manor gives your roof the appearance of real wood along with all the benefits of aluminum. There will be no need to spend a lot of money on treating it with expensive chemicals only for it to deteriorate faster anyway. Rustic Aluminum Shingles has the retro and vintage appearance you desire for your country style house and has the durability of metal. Our Oxford Shingles are our most optimized option, with tons of variety in colors, styles, and protection.
Do not forget that we provide a wide variety of roof material to cater to all your needs. Check them out before to see if they would make a better fit. Our steel roofs provide more durability than even our aluminum. And standing seam roofs stand strong in weather conditions like hurricanes. But for those that want to stick with their traditional roofs, we still install composition roofs.
Sugar Land TX Metal Roofing Contractors Near Me
The Better Business Bureau awarded All-Star Roof Systems with an A+ rating. On top of that, our leading provider, CLASSIC Metal Roofing Systems named us their Preferred Contractor. They assure you of our exceptional customer service and quality roofing service. In 1965, Ron Chappelow founded All-Star and instilled our pride and integrity that we put into our labor. Ever since, for 50 years, we have worked as Houston's leading and premier roofing contractors.
During our five decades as roofing contractors, we always specialized in metal. But we make sure to remain flexible for our customers. We have traditional, composition asphalt tiles as well. We hold to recommending our steel, aluminum, and standing seam though. For our customers' satisfaction and so you feel secure in your purchase, we offer 40-year warranties. And, give you a free estimate and free quote before we begin your roofing project.
You can find our office and operations on Kuykendahl in Tomball. But, not to worry, we still provide metal roofing for all the Greater Houston area. We have experience installing metal roofs on buildings in Spring, Katy, Cypress, The Woodlands, and Sugar Land Texas. Our contractors are familiar with working on residential and commercial roofing, including family homes, apartment complexes, churches, restaurants, retail stores, and more.
To take advantage of Sugar Land TX metal roofing contractors near me, call us at (281) 987-9000 or send an email through info@allstarroofsystems.com.
Sugar Land Fun Facts
We used the 3D projection technology from the 2010 Vancouver Olympic Games in our 2009 New Year's Eve celebration.
Our fossil collection in the Natural Science Sugar Land is ranked in the top five in the nation.
Sugar Land appears in Steven Spielberg's 1974 The Sugarland Express. The Beauford H. Jester prison prerelease center is in the first scene.
For more interesting information on our city, Visit https://www.sugarlandtx.gov/