Metal Roofing Systems
How Much Does Metal Roofing Cost?
In the Houston area, lifetime metal roof cost will be 2-3 times that of a composition shingle roof.  Whether you decide on an aluminum shake or a steel standing seam roof, All Star Roof Systems will be able to provide you metal roofing prices. Texas is home to the largest population of metal roofs in the world!  Our metal roof systems are considered investment grade and will last throughout the years to save you money on replacement and energy costs.
If you are interested in a new metal roof you should contact All Star Roof Systems for a free estimate. They will measure your home and give you real numbers for the different types and styles there are to choose from. There is no obligation and that way you don't have to worry that the metal roof cost might be more than you plan to spend.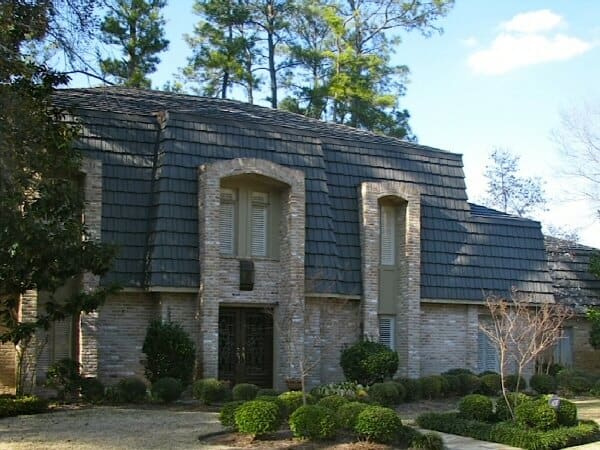 Metal Roofing Cost Less Than Composite Roofing
Life Cycle Costs
Planning a roofing project for the coming season? How would you feel about having to do it all over again 10 to 15 years from now?
With metal roofing, you need not worry. Longevity is one of the top reasons consumers report choosing metal roofing for their homes. A metal roof can last as long as fifty years or more, requiring very little maintenance and looking beautiful all the while.
Since composite roofing needs to be replaced 2 – 4 times as often as metal roofing, you really need to multiply not only the initial cost of composite roofing materials but also the cost of composite roof repairs and re-installation man hours to compare to the typical "once-in-a-lifetime" metal roofing installation.
Energy Savings with Energy Efficient Cool Metal Roofing
As a homeowner, you should expect that your home be built or renovated with energy-saving materials. Materials that not only secure and improve your home, but also provide long-term savings on energy bills. Metal roofing does just that, saving up to 40% of your annual household energy costs, depending on your geographical region.
Reflective metal roofing can save your home up to 40% in summer cooling energy costs (as reported by the Cool Metal Roofing Coalition and the Oak Ridge National Laboratory). Highly emissive metal roofs can reduce urban air temperatures by as much as 12°F.
The secret to metal roofing's energy savings is in its variety of finishes. As shown above, the basic, unpainted metal roof will reflect much of the solar radiation usually absorbed in your attic and home by an asphalt roof.
For homes in warmer climates, pre-painted or granular coated metal roofing systems not only reflect solar energy but also cool your home by re-emitting most of what solar radiation is absorbed. A highly-reflective and highly emissive painted or granular-coated metal roof is optimal for reducing energy consumption and can actually re-emit up to 90% of absorbed solar radiation.
Most metal roofing is composed of recycled material and can be installed directly onto an existing asphalt roof, reducing landfill waste and promoting quick installation as well as decades of environmentally-sound, maintenance-free strength and beauty.
Lower Your Insurance with Weather-Resistant Metal Roofing
If you live in an area that experiences extreme weather from time to time, be it hail, heavy wind or forest and canyon fire, you should be aware of the availability of impact-resistant UL Standard 2218 tested metal roofing (classes 1 through 4) and fire-resistant Class A, B and C metal roofing. While important for the safety and security reasons alone, these quality metal roofing products may also earn you discounts on your homeowner's insurance!
UL 2218 Discounts Available:
Be sure to contact your insurance agency to request information on available discounts. In some areas of the United States, we have heard of discounts of 30% or more – including the UL 2218 discount, which originated in Oakland, CA in 1991 when a house with a steel roof was the only surviving building after a devastating wildfire.
Effects on Home Resale Value
Have you thought about what will happen when its time to sell your home? This is another point in time when the decisions you make now will impact the cost and recuperation of your investment. Homes with metal roofs saw up to an astonishing 95% of the cost recouped at resale. This is not true of composite shingle roofs, which must be replaced and repaired more frequently.
Metal Roofing Prices Summary
Life Cycle Cost – Cost of 1 Metal Roof vs. 2-4 Composite Roofs

Energy Savings – Save up to 20% on Energy Costs

Insurance Savings – Save Up To 15% on Homeowners Insurance

Better Resale Value – Recoup Up To 60% of Metal Roof Costs at Resale
When examining all factors, the purchase of a metal roof is your smartest and most cost-effective decision.
The Benefits of Metal Roofing
Would You Like to Learn More?
If you would like to learn more or to discuss your project just give us a shout to get started. There is no obligation.