Metal Roofing's
Environmental Benefits
Metal roofing is without a doubt the most "green" and environmentally friendly roof you can have on your home or business. Traditional composition asphalt roofing is petroleum based and emits hydrocarbons into the atmosphere as it deteriorates over time. Metal roofing is manufactured from 60% to 90% recycled materials and is itself 100% recyclable. Metal roofing is typically installed directly on top of your existing old roof, saving you the cost of removal and there is no waste to deal with. If your asphalt roof needs to be removed we will bring the materials to a local recycling facility. Our landfills are inundated daily with literally tons of old torn-off conventional roofing and All Star Roof Systems is committed making that old practice a thing of the past. Our crews will also recycle the metal roofing scrap materials left over after we completed a roof installation to insure we are doing our part in helping our environment.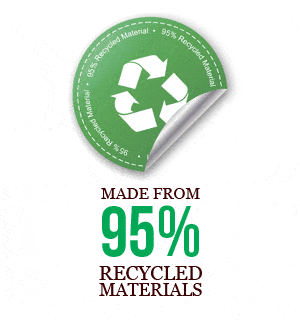 Made from 95% recycled content
Minimal carbon footprint, unlike traditional shingles
Special Kynar 500® or Hylar 5000 hI-R coating reflects radiant heat
Cuts energy costs by up to 20%
Reduces attic temperatures by up to 34%
Integral "dead" airspace blocks heat transfer by conduction
Lower cooling load can extend air conditioner life
Integrates with most photovoltaic solar collection systems
Low weight allows installation over most existing roofs
Eliminates the need for landfill disposal of old roofing
Low weight minimizes transportation cost
Long-life sustainability
Aluminum products can be repainted but will likely never need replaced
Low weight roofing can extend a building's life
100% recyclable if it is ever replaced
Very low "Embodied Energy"
Virtually zero out-gassing
Would You Like to Learn More?
If you would like to learn more or to discuss your project just give us a shout to get started. There is no obligation.