Composite Roof Systems
GAF Roofing – CertainTeed Roofing – Owens Corning Roofing
All Star Roof Systems offers composite roof systems by GAF Roofing, CertainTeed Roofing and Owens Corning Roofing.
While homeowners have a wide range of choices when it comes to modern composite roofing, fiberglass composition shingles continue to be one of the most popular, making up nearly 85 percent of all home roofing systems. Composition shingles feature a fiberglass reinforcing mat at the center of the shingle, which is coated first with mineral fillers (that adhere to the fiberglass) and then with asphalt, which makes the shingle waterproof. The top surface of the shingle is then embedded with a layer of ceramic granules.
All Star Roof Systems, Inc. has extensive experience with composition roofing and for most applications in the Houston area we recommend these three products.
When you choose Landmark composite roof, you make the decision that assures the beauty, durability and security of your home for generations.
Landmark composite roof is engineered to outperform ordinary roofing in every category, keeping you comfortable, your home protected, and your peace-of-mind intact for years to come with a transferable warranty that's a leader in the industry.
With Max Def colors, a new dimension is added to composite roof shingles with a richer mixture of surface granules. You get a brighter, more vibrant, more dramatic appearance and depth of color. And the natural beauty of your roof shines through.
Two-piece laminated fiber glass-based construction
300 lbs. per square
UL Class A fire resistance
UL certified to meet ASTM D3462
UL certified to meet ASTM 3018 Type 1
Conforms to CSA standard A123.5
Miami-Dade Product Control Acceptance: Please see the Notice of Acceptance (NOA) to determine approved products by manufacturing location.
CertainTeed warrants that its shingles will be free from manufacturing defects, and provides the extra assurance of SureStart™ protection. Below are highlights of the warranty for Landmark® Premium. See CertainTeed's Asphalt Shingle Products Limited Warranty document for specific warranty details regarding this product.
Lifetime, limited transferable warranty
10-year SureStart™ warranty (100% replacement and labor costs due to manufacturing defects)
15-year StreakFighter® warranty against streaking and discoloration caused by airborne algae
15-year, 110mph wind-resistance warranty
Wind warranty upgrade is available for Landmark Premium up to 130 mph. Specified CertainTeed starter and CertainTeed hip and ridge are required

All Star Roof Systems is a CertainTeed ShingleMaster
ShingleMaster™ (SM) – Contractors who are focused on superior workmanship and customer satisfaction earn the SM credential by employing a Master Shingle Applicator qualified workforce or participating in an SM Credential Course. An SM can offer you SureStart PLUS extended warranty coverage when an Integrity Roof System is installed on your home.
Owens Corning TruDefinition Duration
BOLD CONTRAST. DEEP DIMENSION. OUTSTANDING PERFORMANCE.
TruDefinition Duration Shingles composite roof are specially formulated to provide dramatic color contrast and dimension to any roof and are available in all the popular colors. Beyond the impressive curb appeal, they also come with the advanced performance of patented SureNail® Technology—a technological breakthrough in composition roofing.
TruDefinition is our color design platform trademark on composite roof shingles that are specially formulated to capture the bright, vibrant hues and dramatic shades that showcase the aesthetic appeal of your home. Shingles feature multiple-granule colors and shadowing to provide an extraordinary look that will enhance your home and complement its natural surroundings.
SureNail® Technology
There's a line between a good shingle and a great shingle.
It's the nailing line on your shingles. The difference between a good shingle and a great shingle is having SureNail® Technology. With SureNail® Technology, strength and durability are built into every Duration® Series shingle, thanks to the unique fabric strip in the nailing area. This unique shingle design provides outstanding gripping power.
SureNail Detail
Patented SureNail® Technology — Only from Owens Corning and featured on our Duration® Series shingles.
Breakthrough Design — The tough-engineered woven-fabric nailing strip is embedded in the shingle to create a strong, durable fastener zone.
Triple Layer Protection®+ — A unique "triple layer" of reinforcement occurs when the fabric overlays the two shingle layers, called the common bond area.
Outstanding Grip — The SureNail® strip enhances the already amazing grip of our proprietary Tru-Bond® sealant.
Exceptional Wind Resistance — The SureNail® grip helps deliver 130-MPH wind warranty* performance with fewer nails than required by most competitors.
Significant wind can cause shingles to blow off the roof deck. Missing shingles can lead to leaks and other interior damage. The quality and performance of the sealant on a shingle helps plays an important part in wind resistance performance. Owens Corning certifies our shingles to industry recognized wind resistance standards through independent third-party testing laboratories.
Algae growth may cause brown to black streaks on roofs but this discoloration does not impact the service life of the shingles. Algae species are transported through the air and growth occurs to varying degrees in all regions of the country; especially those subjected to warm, humid conditions. Algae should not be mistaken for fungus growth, soot, dirt, or moss. Almost all types of roofing systems are susceptible to algae discoloration. Where noted on the individual Product Detail page Technical Specifications tab, Owens Corning provides limited warranty coverage on some of our shingles for algae resistance. For full details of coverage, refer to the actual warranty for details, limitations, and requirements.
ENERGY STAR® is for roofs too. Similar to the energy-efficient appliances in your home, roofing products can provide heating and cooling saving qualities. Owens Corning Roofing Shingles can help reduce your heating and cooling bills when installed properly. Certain shingles reflect solar energy, decreasing the amount of heat transferred to a home's interior — and the amount of air conditioning needed to keep it comfortable. Actual savings will vary based on geographic location and individual building characteristics. Call 1-800-GET-PINK® or 1-888-STAR-YES for more information. ENERGY STAR® is available on the following colors: Shasta White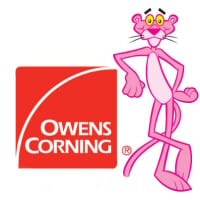 Help improve your home's resale value with Timberline HD® Shingles composite roof from GAF. Timberline® High Definition® Shingles with Advanced Protection® Shingle Technology are the #1-selling composite roof shingles in North America. Timberline HD® Shingles will not only protect your most valuable asset but also beautify your home for years to come.
Great Value…
Architecturally stylish but practically priced—with a Lifetime ltd. warranty.
Dimensional Look…
Features GAF's "High Definition" color blends and enhanced shadow effect for a genuine wood-shake look.
Safer…
Class A fire rating from Underwriters Laboratories, the highest rating possible.
High Performance…
Designed with Advanced Protection® technology, which minimizes the use of natural resources while providing superior protection for your home (visit www.gaf.com/aps to learn more).
StainGuard® Protection…
Helps ensure the beauty of your roof against unsightly blue-green algae.
Stays In Place…
Dura Grip™ Adhesive seals each shingle tightly and reduces the risk of shingle blow-off. Shingles warranted to withstand winds up to 130 mph.
Peace of Mind…
Lifetime ltd. transferable warranty with Smart Choice®Protection (non-prorated material and installation labor coverage) for the first ten years.
Fiberglass asphalt shingle
Lifetime ltd. transferable warranty
Smart Choice® protection for the first 10 years
130 mph ltd. wind warranty
Listed Class A Fire – UL 790
Passes ASTM D7158, Class H
ASTM D3018 Type 1
ASTM D3161 Type 1, Class F
ASTM D3462

(See Details)

StainGuard® Algae Discoloration ltd. warranty (available in most areas)
Energy Star Qualified (white only)
Miami-Dade County Product Control Approved

(See Details)

Florida Building Code approved
Texas Department of Insurance approved

(See Details)

ICC Approved

(See Details)

CSA A123.5-98

(See Details)

Approximately 64 Pieces/Sq.
Approximately 3 Bundles/Sq.
Approximately 256 Nails/Sq.
5 5/8″ exposure

Would You Like to Learn More?
If you would like to learn more or to discuss your project just give us a shout to get started. There is no obligation.
All Star Roof Systems ////////
5425 FM 2920 Spring, Texas 77388
Phone (281) 987-9000
Fax (281) 350-0707